Our Programs
University of California, Santa Barbara
Six Nobel prize winning professors
Consistently ranked very high in the "Best College" categories of major research institutions
Campus is right at the beach
Close proximity to downtown Santa Barbara with shopping, entertainment, and sports activities
In 1944 the University joined the University of California System.
The university is known both for its world-class research achievements as well as for their high-quality teaching instructions.  The UCSB has six Nobel laureate professors in the fields of chemistry, physics and business administration and ranked every year very high in the "Best College" category of the various research institutions.  Santa Barbara is also home to the University of California, Santa Barbara (UCSB).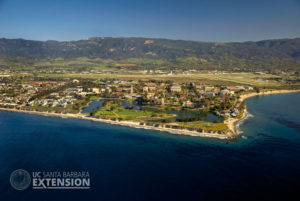 University of California, Santa Barbara.  The UCSB is one of the ten universities that is connected to the high-quality University of California system.  The UCSB has about 20,000 students and offers almost 100 different departments that are recognized after graduating with a bachelor, masters, and doctorate degrees.
The excellent reputation of UCSB in the research field, as well as the numerous training opportunities have provided the University's membership in the exclusive association "Association of American Universities (AAU)."  In a new study, the UCSB was ranked as one of the two best public universities in the United States.  Students from all over the world come to Santa Barbara to study.
The UCSB campus is located near the Pacific Ocean and is surrounded on three sides by water, such as white sand beaches surrounded.  The university itself has its own lagoon.  The beautiful campus is adorned throughout the year by a sea of ​​colors of flowering plants.  Biking trails can be found, which are eagerly used by bicyclists, as well as skateboarders everywhere.  Since many students live on campus or in the adjacent municipality of Isla Vista, there is a very active campus life at UCSB.
In addition to many cozy places for studying, there is a bookstore, restaurants and cafes, museum, concert hall and a hall which can lectures, movie nights, readings and other cultural events by celebrities regularly in the.  There has even been a movie premiere on campus before not too long, and the occasional "open air" Festivals are offered.
UCSB Extension International Student Programs: Students can choose from programs such as: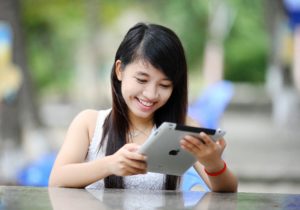 UIP Program
The UCSB program "UIP" (University Immersion Program)  allows participants to select from a variety of courses- university courses (campus classes), and extension classes (professional classes).  It is advisable to choose a combination of both.  The respective UCSB professors on site will determine whether you get into the different classes.  The selection is based on the available seats in the courses and the individual's previous knowledge.  The UCSB offers a wide range of courses from many disciplines. You can see the course offers in the UCSB online General Course Catalog (see below) as well as on the Extension website.  You may also go directly to the website of each department to see what classes are offered in each quarter.  For questions we are happy to help.
Would you like to gain some work experience in an american company? Students who attended at least 3 quarters at the UIP Program, are able to add up to a one year internship. Please ask us for details.
Dates:
Winter: January – March
Spring: March – June
Summer: June – August  (first 6 weeks)
Summer: July – September  (second six weeks)
Summer: June – September  (Entire summer)
Fall: September – December
Requirements:
In general, candidates for the UIP program at UCSB must be at least 18 years old, be enrolled in a college and show that they have sufficient proficiency in English.  Standardized tests like TOEFL or IELTS are accepted.  Please contact us if you have other test results.
Minimum test results:
IELTS: 7.0
TOEFL

(institutional): 550
(internet-based): 80
UCSB Course Catalog: You can find an overview about UCSB courses here.
Stepp UPP
Preparations are well on track for the first cohort in 2019 summer.  It's designed for international students who are graduating high school and wanting to get a head-start in getting their US. undergraduate degrees.   
Step UPP offers:
19 transferable units that count towards your admission application!

6 weeks Intensive English Language Training that gets you where you need to be!

3 quarters of structured instruction in General Education courses and academic preparation courses!

A guarantee to seek admission to UCSB after completing Santa Barbara City College (SBCC)!
Advanced English Language (AEP)
Learn or improve your English language skill in the classroom while studying interesting topics. Practice your new found skills with other american and international students on campus. Be part of the american student life.
Topics:
Intensive TOEFL Preparation; Academic Writing; Culture and Communication; Critical Thinking and Analysis; English through American Arts
Professional Certificates
Some can be completed in one quarter (12 units). Choose from following certificates: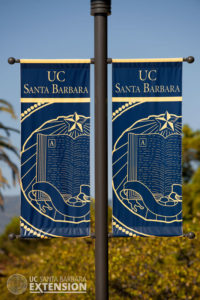 Applied Project Management (16 units)
Introduction to PM; Project Planning; Project Execution; Project Practicum; Agile PM; Six Sigma Green Belt; Presentation Skills for Business Professionals
Digital Marketing (12 units)
Developing Digital Marketing Strategy; Online & Social Media Marketing; Public Relations/Advertising; International Marketing; Blogging for Business; Internship; Search Engine Optimization;
Business Leadership Essentials (12 units); 
Foundations of Leadership, Organization & Ethics; Business Negotiation; Business Finance; Employee Relations; Presentation Skills for Business Professionals
Business Law & Social Responsibility (12 units)
Business Law & Social Responsibility; Cross Cultural Conflict Resolution;Ethical & Regulatory Environments; Presentation Skills for Business Professionals; Advanced Public Speaking; Argumentation & Debate
Graduate Studies Preparation
Customized English Language & Culture (we create a program specifically for your needs)
Summer University Preparation & English Education
This 7-day intensive program that comes in three modules has everything! This is an exclusive program that provides students not only with practical knowledge about admission to a US American University, but also offers fun activities, a specific ESL focus, and opportunities to experience Campus life and US American culture! (Minimum group size: 20)
Medical English Immersion Program (December 2018)
This 3-week applied Medical English Immersion program is designed to introduce non-native English speaking participants in-depth to a profession in the medical field in the US American context, to participate in a variety of clinical and medical settings, to improve their proficiency levels in this specialized, medical terminology, and to facilitate first-hand learning experiences at a state-of-the-art hospital setting. On-site visits and observations in the morning will be complemented with rigorous ESL classes in the afternoon! (Minimum group size: 20)
This program is designed to introduce faculty and graduate students to research-based principles of successful teaching, learning and assessment in higher education. A wonderful opportunity to learn how to apply these principles in their own teaching.  Participants will learn about modern classroom teaching practices and methodologies, classroom management, technology in education, instructional design, and educational policies, as well as English language skills! (Minimum group size: 15)
Tuition: Approx.  U.S. $ 1.620 – $ 3.360 per quarter
These fees depend on the number and type of courses.  Please keep in mind that cost of text books, as well as other fees.
Additional Fees:
Program Fee: U.S. $ 1.275 per quarter
International Student Services Fee: U.S. $ 920 per quarter
Application Fee: U.S. $ 200 per Quarter
Dorm
The dormitories are generally double occupancy, but also single rooms are offered.  Bathrooms are shared.  The rooms are simply furnished: bed, desk, chest of drawers, wardrobe, shelves.  Meal plans in the form of Mensa plan is included in the rent.
These residence halls (dorms) are only available to international students in summer.
Campus-own apartments
The University has a number of apartments, which are furnished with double beds, a wardrobe, chest of drawers, and desk. See the following page: https://www.housing.ucsb.edu/application/extension/default.htm
Private apartments
Many students choose private accommodations: A room in a shared apartment or a private apartment.  Please keep in mind that private apartments usually demand deposits, and that often may incur additional costs.
We cannot make arrangements for accommodations for you, but can give you advice on where to find the best locations to start your search.  Please also send us a message, as sometimes previous students will forward the information of their accommodations to us.
While the UCSB does not place any rent rooms or apartments, but has lots of information about the apartment search.  Expect to pay about U.S. $ 900 to U.S. $ 1.100 per month for a single room apartment.  And approximately U.S. $ 1.100 to U.S. $ 3,000 per month for an apartment, depending on the size and number of bedrooms
California Polytechnic State University (CalPoly)
Consistent high ranking university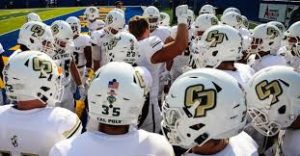 Low student to teacher ratio of 1:19
Hands on Motto "Learning by doing"
Close proximity to the ocean, beach but also mountains
For over 100 years, CalPoly's Philosophy has been "learning by doing". Students can implement from the beginning theory into practice.  A student / professor ratio of 1:19 supports this philosophy.  CalPoly is part of the California State University system, the largest University system in the USA.  For 20 years, CalPoly has received awards as the "Best public master's university in the West by " by U.S. News and World Report" and "Top Undergraduate Business College" 4 years in a row.  CalPoly has hundreds of different campus own clubs.  Among other things, an international club.
The campus is surrounded by mountains and only a few minutes from the charming downtown San Luis Obispo, and close to many beautiful and clean beaches of the Central Coast.  From kayaking, surfing, golfing, hot air ballooning, sailing, hiking, climbing, riding or wild ATV rides on the nearby sand dunes in Pismo Beach.  Everyone will be able to find something of interest.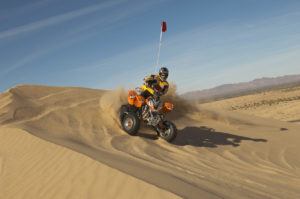 The city of San Luis Obispo is located in a quiet green valley, surrounded by hills and volcanic mountains.  San Luis Obispo, or SLO, as is affectionately called by the locals, is a beautiful small town, a few minutes from California's Pacific Coast, between Los Angeles and San Francisco, away.  SLO has a lot to offer, be it shopping, restaurants, theaters, concerts and the famous Farmers Market with music, food and entertainment.
San Luis Obispo is located approximately 13 kilometers from the Pacific Ocean, offering 315 days of sunshine a year, nearly perfect weather.  The typical American town center offers many shopping and cultural attractions.  It is ideal for exploring on foot, thanks to its size and offers numerous shops and restaurants also several historical landmarks.
Influenced by the California Polytechnic University (CalPoly), offers the small town a vibrant nightlife for young and old.  Many restaurants and bars offer "Live Music" and dancing.  In addition, the festival offered promote local musicians, such as the famous summer concert series on the mission forecourt.  Beautiful beaches with a variety of options are easy to reach and visitors enjoy hiking and biking on the mountain trails and along the coast.  The atmosphere is everywhere "laid back".  Here you will find tourists, surfers as well as cowboys.
Not surprisingly that San Luis Obispo was elected as "most livable" city. 
VISIT Program
The quarter program VISIT CalPoly allows participants to choose a variety of courses, from the large university course catalog.
The respective professors as well as departments on site will determine whether you get into the class.  The selection is based on available seats in the courses and the individual previous knowledge.
Dates:
January – March  (Winter Session)
March – June (Spring Session)
June – September  (Summer Session)
September to December  (Fall session)
Requirements:
Good knowledge of the English language, a minimum age of 18 years.  Standardized TOEFL test and IELTS are accepted.  Please contact us if you have other test results.
Deadline for applications: approximately 6 months prior to start of the quarter (recommended).
You can find the CalPoly Course Catalog here.
Summer School Programs:
Summer School for Business/Engineering/and Computer Science Students: Business Model Innovation http://intlworkshops.calpoly.edu/workshops/business/home_business_workshopshtml
Application Fee (Application -, program and Student Service Fee) approximately USD $ 1,700
Course fees approx. USD $ 3100 – $ 3400
On-campus accommodation
Possibility of accommodating on-campus housing (dorms) approx. $ 2620 (for 4 months) in a beautiful location with
View of the campus, as well as the surroundings of the town of San Luis Obispo.  The Dorms organize their own activities, which enhance the campus experience. The bathrooms, like the rooms are shared and cleaned weekly, TV and Internet as well as electricity and water are included in the price.
Each apartment has a living room with sofa, chairs, table, and lamps.  A kitchen with Refrigerator, microwave, stove and a dining area is equipped.  Two bathrooms.  Four private bedrooms, each equipped with a bed, desk, chair and closet.
Off Campus Accommodation
The university supports the accommodations search by providing lists of possible openings, but cannot guarantee the details and conditions. Free Bus service to San Luis Obispo are offered to international students by the SLO Transit system.
Students who wish to study one term at the CalPoly must attend a minimum of 12 units to obtain a full-time visa.
Standard and Intensive English Language Programs with Focus on TOEFL Prep
General English Course
Embassy Pathway to English
Vacation & Travel English
English in Motion
Dates: Year round, starting on Mondays
Requirements: A minimum age of 16 years.
Application Fee: $150
University Facility fee: Sliding scale depending on length of program
Tuition starts at $310/week depending on duration of attendance and program selected. Please ask us for further details.
Homestay (half-Board): Single room: $322/week or $294/week if shared (when traveling with other students. Need to be booked together)
Contact us
Do you still have questions? Just send us an email. I will be happy to answer your questions, and give you additional information about our programs.